Airport Analytics (AA+)
GrayMatter's Airport Analytics (AA+) is a pre-built Enterprise-wide solution for Airport Operators consisting of in-depth analytics for all areas of airports business by integrating data across 20+ airport systems into centralized data warehouse. Airport Analytics enables business users to do historical data analysis with role-based intuitive and insightful dashboards. Airport Analytics (AA+) drives real-time data-driven actions to optimize operational performance, reduce wait time, forecast passenger and baggage flow. Airport Analytics provides what-if modelling for revenues, operations, forecasts and so on with its high-end statistical models.
Why Airport Analytics (AA+)
ROI driven solution proposition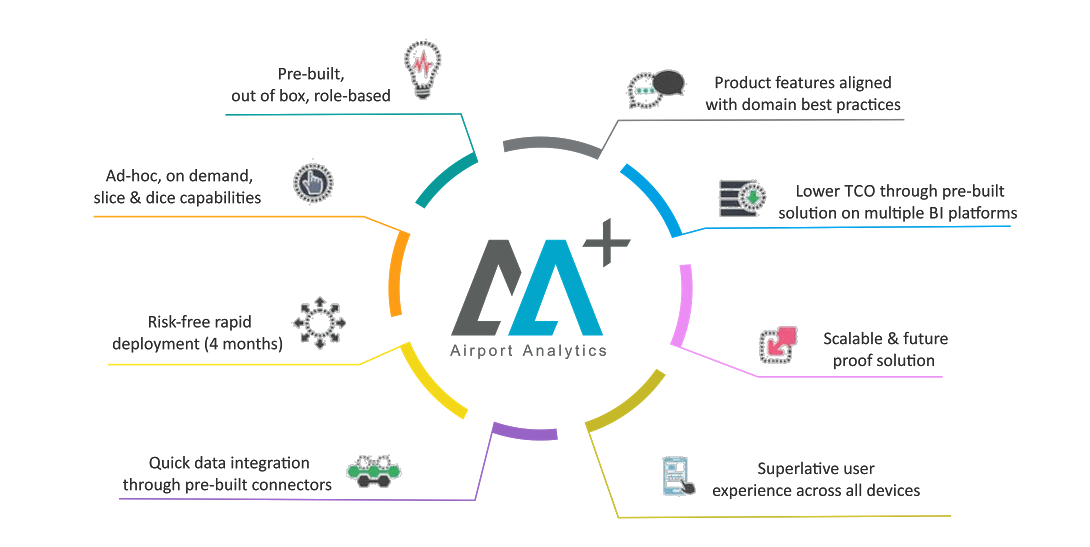 Airport Analytics (AA+) Modules
The Airport Analytics solution is designed with a modular approach to meet the specific information needs of different business areas in an airport. The capabilities of AA+ solution, lead to tangible business benefits like reduced passenger wait time at airports, improved aero revenues, enhanced non-aero revenues (retail sales, retail rentals, car parks), improved maintenance of infrastructure, increased engagement with airlines, improved ground handling services, elevated passenger experience through feedback analysis, improved energy & water efficiencies and so on. AA+ is a comprehensive airport data analysis product that delivers the above business outcomes through a blend of the specific value propositions of each of the 10 modules of Airport Analytics (AA+) solution listed below:

Improve passenger experience by increasing efficiencies at multiple touch points

Enhance bottom line through better control on financial health

Increase top line through optimizations of retail space, car park and rentals

Identify opportunities to attract more airlines at airport

Monitor project progress & pro-active maintenance for better efficiency and serviceability

Improve profitability with Optimized productivity and Improved quality of services

Car Parking Revenue Management
Maximize revenues by optimizing car park utilization

Environment &
Sustainability
Analyze area of improvements to maintain safe and energy efficient business operations

Nurture your human capital through analytics

Enhance passenger and customer satisfaction through feedback driven analytics
A Complete Airport Analytics Solution
GrayMatter understands the complexities of running a Commercial Airport with in-house domain experience of over 100 man-years and Business Intelligence (BI) experience of over 500 man-years. Our Airport Analytics solution addresses all the pain areas, capturing and analyzing all available data/information and enabling fact based decision-making to users, besides enabling smart report structures. AA+ encompasses a complete Airport BI solution providing enterprise-wide, role-based, actionable business insights enabled by a mix of deep domain knowledge driven airport bi consulting and cutting-edge airport data analytics. The depth of airport analysis in the solution also reflects in the fact that AA+ covers 10 modules, 48 sub-modules, 100+ dashboards, 450+ KPIs, 20+ predictive models.