Overview – Airport Predictive Analytics
Your Airport business is competitive and dynamic. Proactive decision making is a boon; while insights give you the pulse of your business, its foresight that sets you apart. Presenting the predictive capabilities of Airport Analytics (AA+) to help you in your journey. GrayMatter's dedicated Airport Predictive Analytics team of data scientists use a host of data science techniques like cluster analysis, regression, association rules, factor analysis, forecasting and many more to deliver predictive insights!
Use Airport Predictive Analytics to Address Key Business Challenges!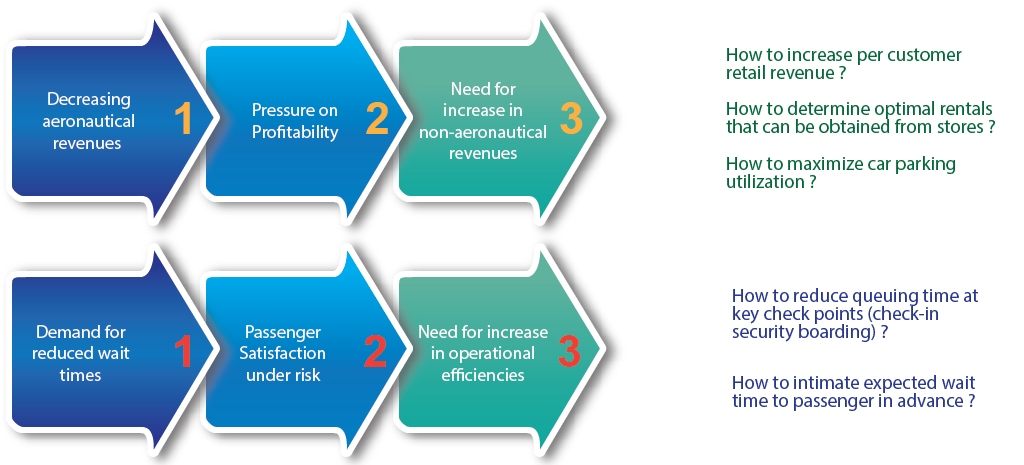 Optimize your Airport Retail Revenues
Trend and correlation analysis of store size and revenue per departing passenger enables right sizing of stores
Customer profiling to determine preferred class of stores and locating stores accordingly
Reallocation of gates based on passenger profiling can enable stores to get traffic with target customer segment
Analysis of customer demographics and purchase preferences to enable correct store mix and hence accurate product mix at the airport
Turbo-Charge your Passenger Experience!
Video analytics solution to determine average number of people in a queue and average queuing time to

Provide proactive updates to passengers on expected wait time
Set up new counters to improve service efficiency

Refined solution to remove any false detections by doing a "congestion analysis" thereby delivering an accurate solution