Improved Airline Marketing using Airport Analytics
Airport operators handle a tough business! One would say that all businesses are complex, why just airports?! Well yes, and NO! Let me illustrate.
Airports have to allure passengers, but that's just one part of the story. Modern times have brought in an evolved business landscape and airports can no longer expect airlines to knock on their doors requesting their permissions to commence their flight operation. Airports have to attract more airlines to operate from their airports, to step up the number of flights of already operating airlines and to add more destinations to the existing network at their airports
Airports have a dedicated Airline Marketing Department to attract airlines through initiatives like offering concessions to the airlines, reductions in airport charges for certain period; accommodate preferred slots wherever possible; create more passenger-friendly lounges and other facilities for their passengers etc., so that they can profitably and efficiently establish themselves in the airport.
How does the Airline Marketing team empower the airlines to perform better? Well information and insights are key to any and every business decision and it is no different in this context. GrayMatter's Airport Analytics (AA+) solution is pivotal for this purpose, with its specific module for Airline Marketing analytics. The Airport Analytics (AA+) solution utilizes a mix of reports, dashboards, self-service analyses as well as advanced data mining techniques to forecast passenger, cargo volumes and a bunch of other metrics that the airlines require to plan their networks.
The analytics is carried out on copious data include studies on their operating airlines' performance, business studies on volumes of cargo and passengers carried by airlines, analysis of transit passengers and route network of such transfer flights of airlines, airports comparisons, passengers' surveys, etc. The insights from several dashboards in the Airline Marketing module of the Airport Analytics (AA+) immensely help the airlines to benchmark themselves and assess their own performance.

I would like to exemplify with the help of a particular analysis to depict how the Airport Analytics (AA+) airline marketing solution provides comparative airline performance and hence benchmarking. Look at the image below presenting Leader-board Analysis to compare airlines.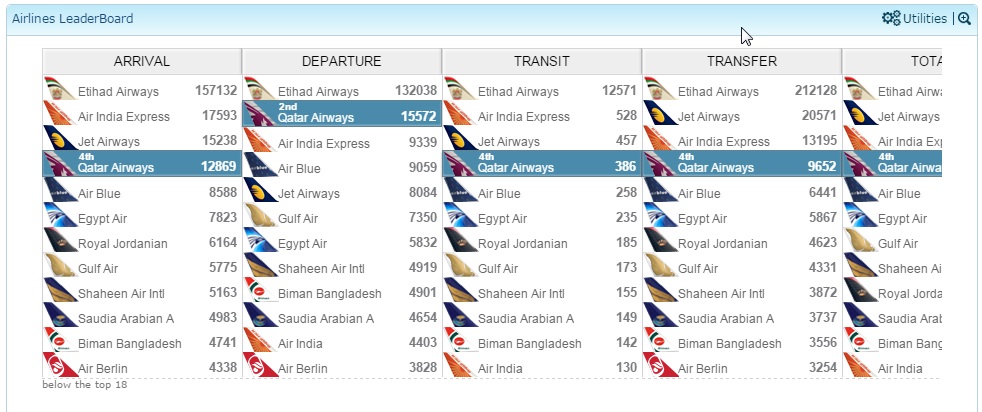 Airlines' Leader-board is basically a type of scoreboard which shows all the operating airlines and their current measures in respect of their performance metrics. In terms of data visualization in the dashboard , it can be used to show how some competitors are performing across certain metrics (like the no. of flights operated, the no of pax carried by them, cargo tonnages handled by them, their on-time performances in percentage, etc.). Thus for instance, in the leader board above you can see Qatar Airways ranked as 4th for arrival, transit, transfer and ranked 2nd for departure.The airlines' leader-board not only displays comparative ranking, but also enables all operating airlines to determine their own performance levels in respect of passenger load factor, market shares etc and use that information to improve their performance.
Benchmarking of airlines 'Best-in-class' service affords an opportunity to them to study the performance of their competitor in respect of any specific function. Comparative dashboards in the analytics stack of the airport gives the airlines an insight into the performance of the airport for their own assessments.