GrayMatter's Airport Analytics (AA+) is a pre-built Enterprise-wide solution for Airport Operators consisting of in-depth analytics for all areas of airports business by integrating data across 20+ airport systems into centralized data warehouse. Airport Analytics enables business users to do historical data analysis with role-based intuitive and insightful dashboards. Airport Analytics (AA+) drives real-time data-driven actions to optimize operational performance, reduce wait time, forecast passenger and baggage flow. Airport Analytics provides what-if modelling for revenues, operations, forecasts and so on with its high-end statistical models.
Airline marketing analytics is a part of the AA+ solution. The dashboards, visualizations and analyses that form part of the airline marketing analytics module empower airline marketing efforts at airports through data-driven reporting and insights around opportunities for new routes, routes likely to be lost, analysis of route performance, competitive airport bench-marking and many more such aspects.
Appended below is screenshot for one of the summary performance overview dashboards, in the airline marketing analytics solution. This dashboard presents some key summary metrics around passenger count, capacity and seat load factor. The portlets below show passenger comparison and capacity comparison by top 10 destinations.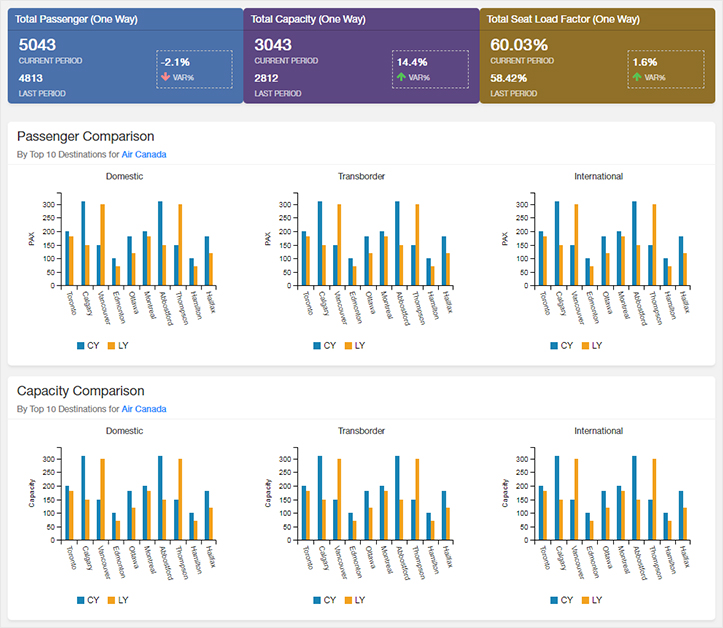 Dashboards in the solution are appropriately equipped with drill down capability so that the user can navigate from one level of detail to the next and do a proper root cause analysis. All dashboards follow the 4 W principle of what, when, where and why so that these critical questions are answered for the user. The dashboards are equipped with collaboration features like share, export, e-mail etc. and are also rendered seamlessly across devices.